J-STORIES - A Japanese company has developed a sustainable agro-technology that looks set to take root in many areas of the world where climate and soil quality make farming difficult.
The "Imec" film developed by Kanagawa Prefecture-based firm
Mebiol
, a fabless company based in Kanagawa Prefecture focusing on research and development, contains hydrogel, a jellylike material that can hold large amounts of water. 
On the surface of the membrane are countless nanometer-scale pores. With one nanometer being equal to one millionth of a millimeter, these perforations are too small for bacteria and viruses to pass through, ensuring healthy and safe produce without the need to use chemicals.
Seeds are sown on top of the film, while clean nutrients are supplied via irrigation tubes underneath, reaching the plants and helping them germinate and grow roots.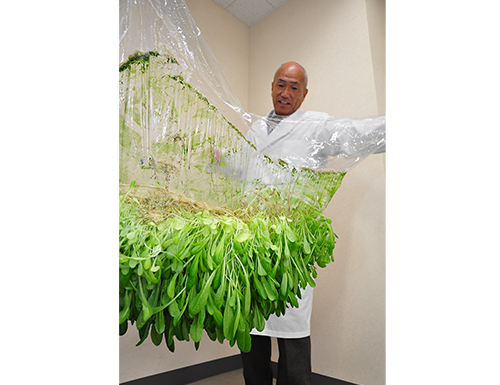 "As well as preventing plant disease, [it] can significantly reduce the amount of agricultural chemicals used," Mebiol CEO Hiroshi Yoshioka says of the membrane, which has numerous other uses, such as in soft contact lenses and wound dressings. "And the amount of water used can be kept to one-tenth that used in conventional cultivation," he adds.
Compared to conventional farming, using the film requires a low initial investment and the cultivation techniques can be quickly learned. This makes it easier for inexperienced farmers to start growing crops. In Japan, where many farmers are elderly and live in depopulated areas, the film could help revitalize agriculture.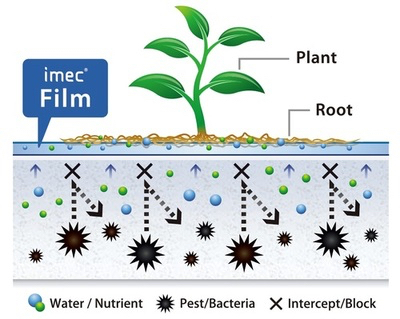 And the tech is already beginning to take root in Japan, where dozens of farms are currently using the film. Among them is one in Ibaraki Prefecture that is run solely by women, and another in Aichi Prefecture where the farmers are elderly. According to Mebiol, around 60% of the 160 farms that use Imec were started by people with no farming experience.
Since Imec doesn't need soil, it can be used to grow crops in deserts, or places where land has suffered damage during flooding and other natural disasters. In 2011, an earthquake and massive tidal waves caused severe damage in the city of Rikuzentakata, Iwate Prefecture. But large-scale tomato production there has been made possible thanks to the Imec film.

Imec is particularly well-suited to tomato cultivation, says Yoshioka. "Controlling the moisture content in the film increases the concentration of sugar, amino acids, glutamic acid, and other substances, resulting in high-quality, highly nutritious tomatoes."
He added that tomatoes can even be farmed in desert areas where removing salt from groundwater would be prohibitively expensive. And tomatoes with high sugar content sell for a higher price, providing a new source of income to farmers.
Imec was developed by Mebiol founder Yuichi Mori, a researcher with over 30 years of experience in developing cutting-edge membranes and hydrogels for use in the medical industry. Mori's aim was to apply this technology to agriculture in the hope it might help address some of the globe's most serious issues regarding food safety and security, water shortages, and soil contamination.
Tapping in to this medical background, Yoshioka says that the company would also like to work on developing vaccines and other drugs, and in fact there are already some examples of hydroponic cultivation technology in vaccine production. He anticipates new applications for the company's film technology in future.
Translation by Tony McNicol
For inquiries about this article, please contact jstories@pacficbridge.jp
Click
here
for the Japanese version of the article.