J-STORIES - Surgical robots are wielding the scalpel more and more often these days. However, they don't yet perform procedures autonomously. Rather, these devices that can make surgery safer and speed recovery are controlled by a human surgeon, usually a short distance away in the same room.
"
Hinotori
," the first surgical robot in Japan to gain official approval, started performing urological procedures in 2020, and since last year has been also used for gastroenterological and gynecological operations. It is currently available at 31 medical facilities and has helped 900 patients. Those numbers are expected to rise as use of the robot expands to respiratory and other surgeries.
During robot-assisted surgery, small incisions are made into the patient's body before a robotic arm tipped with instruments and an endoscope is inserted. The arm is remotely controlled by a surgeon sitting nearby in a "cockpit." The method is similar to conventional laparoscopy (keyhole surgery) but the robotic arm can move more precisely and with more freedom. Also, there is less bleeding and a shorter recovery time compared to open surgery.
Prior to Hinotori, the world's only surgical robot was
the Da Vinci Surgical System
. This went on sale in the United States in 1999 and has been used in large Japanese hospitals since 2009. According to the website of its developer,
Intuitive Surgical
, it has performed 8.5 million surgeries in 67 countries. However, many of the major patents for the system expired in 2019 and new robots have been under development in many countries since.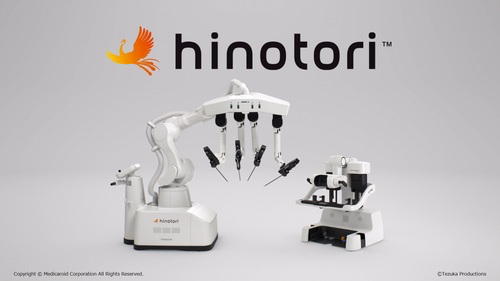 Hinotori was developed by
Medicaroid
, a company based in the central Japan city of Kobe and established in 2013 with investment from industrial robot manufacturer
Kawasaki Heavy Industries
and
Sysmex
, a maker of testing equipment and reagents. The Hinotori robot is named after a manga by Osamu Tezuka, a legendary Japanese manga artist who was also a licensed physician.
According to Medicaroid, they developed Hinotori to meet "the need for a Japanese robot that could perform the delicate manual techniques of Japanese surgeons." They worked with various local doctors to produce a compact, humanlike, robotic arm capable of smooth movements. The cockpit can also be adjusted to the body shape and posture of the surgeon, making long periods of use more comfortable.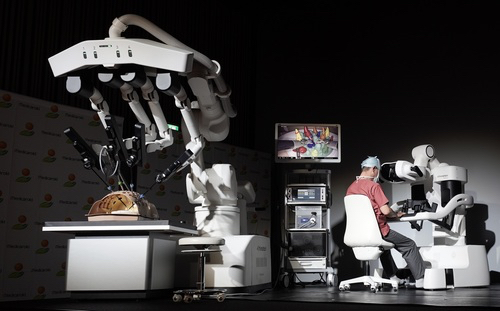 The system also collects data during operations, so that if a problem occurs, a support center can investigate the cause and solve problems in real time. This feedback accumulates over time and is used to update the system with new functions. Medicaroid is also looking into building a database with such information to train young doctors.
There are hopes that remote robotic surgery could help address problems with shortages of such medical care in the Japanese countryside. Advanced medical techniques and equipment tend to be concentrated in cities, but a possible solution would be for highly skilled doctors to operate on patients using remote systems.
According to Medicaroid, their system might also be able to help in the training of young doctors through remote assistance by veteran doctors. To this end, the company has been working on several remote surgery projects with universities and other companies.
Medicaroid also hopes to sell its system abroad and has set up operations in Silicon Valley, Germany, and Singapore. Since many doctors in Asia have similar body shapes to Japanese doctors, the company hopes to focus on those markets first.
Translation by Tony McNicol
Top page photo by Medicaroid
For inquiries about this article, please contact jstories@pacficbridge.jp
Click
here
for the Japanese version of the article.
In addition to J-stories' own research, this article also uses information from the following websites: