J-STORIES - Late last year, visitors to the
Maker Faire Tokyo
took note of a very harmonious piece of fabric. Called "Nuno," the e-textile had a unique feature: It could be played just like a keyboard, with even the lightest touch emitting an array of synthesized notes.
The Nuno e-textile sensor kit appeared in an exhibition space at the event called "Smart Clothing Lab," where a range of wearable devices was on display, including underwear with wearable biometric tracking tech.
They are all part of a rapidly growing "smart clothing" market that has been
estimated to reach
US$5.3 billion by 2024 — an almost threefold increase over 2019 ($1.9 billion).
Other estimates
show it will expand more than four times that over the next decade, hitting $22 billion by 2032.
Among the companies looking to tap into this market is the Tokyo-based startup
Hap
, which is developing technology related to the "smart city" concept, where life in urban conurbations is made easier through digital networks. For example, clothes with conductive fibers might contain electrocardiograms and other sensors that could enable measurement and analysis of data such as heart rate and brain waves. This could then be transmitted to online medical services.
Hap also hopes to develop functional fabric with conductive fibers that can be controlled by smartphone to adjust temperature, humidity, and airflow. And it is even looking at textiles that could be used to heat and freeze foodstuffs.
And while many examples of wearable tech on the market today look to tap into the ever-expanding sport and fitness boom, others have a more practical outlook centered around fabrics themselves.
Hap's research into high-tech apparel began in 2013 with the use of photocatalysts and other substances to improve the practical function of clothes. For example, by applying the company's
Coveross
technology, clothes can be made more resistant to sweat stains and less likely to retain odors. Anti-stain treatment, meanwhile, enables stubborn stains to be washed out with just water.
Other functions include antiviral properties, UV-protection, heat blocking, cooling, and preventing annoyances such as sticking, becoming see-through, static electricity, and pilling. As of today, the company has developed over 30 treatments for new or used clothes made from natural or artificial fabrics.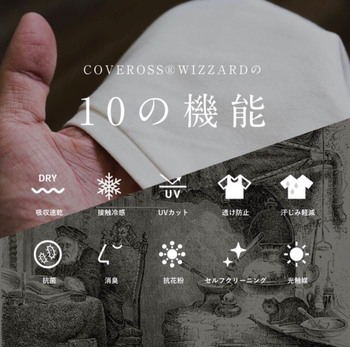 Normally, adding such functions to fabric requires large quantities of gluelike "binders" that stiffen fabric and reduce air permeability. But the company has minimized binder use by developing a photocatalytic treatment process that relies on ion bonding. This makes possible fabrics that retain their feel to wear, but also have excellent breathability and stand up to repeated washing.
Hap CEO Moto Suzuki told J-Stories: "We got here by pursuing comfort in everyday clothing. Through the evolution of technology, there are endless possibilities for the clothes that people across the world wear day by day."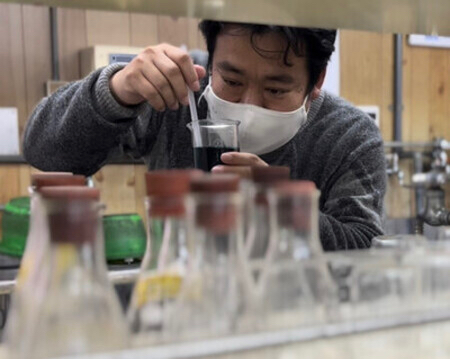 Indeed, Hap is just one of a number of Japanese companies exploring those possibilities. Another is Teijin Ltd., which has developed a jacket that can simulate the sense of touch in virtual reality, while
Toray Industries
' "Hitoe" conductive fabric has been approved for medical use.
Toray's fabric is made from ultrafine threads that fit closely to the skin, enabling it to accurately monitor "biosignals," weak electrical signals from the heart. This is particularly useful for those suffering from heart conditions such as atrial fibrillation (or "a-fib"), an irregular and often very rapid heart rhythm that elevates the risk of a stroke, or heart attack.
Since 2019, Hap, too, has been looking into "wellness" garments, teaming up with the faculty of textile science and technology at Shinshu University to develop smart clothes that can assist the immune system, promote relaxation, and improve sleep.
Meanwhile, in response to more people working from home, they are developing clothing that can help regulate wearers' minds and bodies.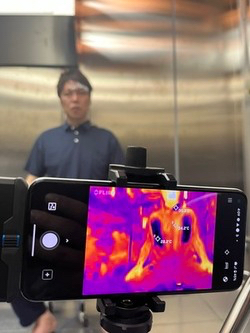 The environment also stands to gain. Other clothing developed by the company can be comfortably worn even when the temperature changes, helping reduce carbon emissions from heating and air conditioning. The company will also start a recycling service in which local authorities collect used clothes so that they can be repaired and worn again.
"In the future, instead of choosing clothes to suit the temperature, clothes themselves will be able to change their temperature to suit the weather," said Suzuki.
Translation by Tony McNicol
Top page photo by myjuly/Envato
For inquiries about this article, please contact us at jstories@pacificbridge.jp
Click
here
for the Japanese version of the article.
In addition to J-Stories' own research, this article also uses information from the following websites: