J-STORIES - Last month a pioneering research center opened in the city of Kawasaki bringing together companies in a variety of medical fields to pave the way for the medical innovation of the future.
The Cybernics Medical Innovation Base-A is touted as an "innovation promotion facility," and was purpose-built to enable companies specializing in regenerative medicine, biotechnology, AI, robotics, and other fields to pool their knowledge and come up with solutions and ideas for future societal betterment.
Part of an innovation hub in Kawasaki that last March was linked to Tokyo's Haneda International Airport via a new bridge that spans the Tamagawa River, the center was the brainchild of Cyberdyne, which is globally renowned for its wearable robot "HAL." Standing for "Hybrid Assistive Limb," HAL is a system that uses sensors attached to the user's skin that detect faint brain signals instructing movement and can help people with physical impairments improve and recover motor function.
Yoshiyuki Sankai, HAL's inventor and Cyberdyne's CEO, says that cutting-edge robotic technology such as HAL plays a central role in a new interdisciplinary research field he calls "cybernics," after which the new research center is named.
This new research domain will cover "cybernetics, mechatronics, and informatics, and integrates neuroscience, robotics, systems engineering, information technology, ergonomics, social science, ethics, and economics, among others. Cybernics can also refer to industries, technologies and therapies stemming from this research.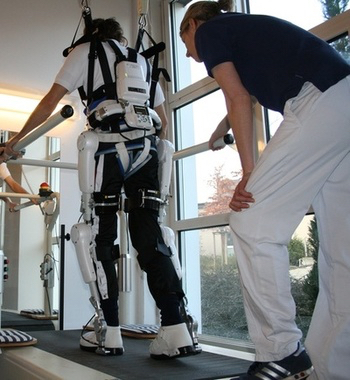 But turning this extremely wide-ranging research domain into an actual industry requires infrastructure to bring together medical technologies from different fields. Since 2018, Cyberdyne has been promoting "
C-Startup
" (short for cybernics startup), a project that provides funding and business cooperation to startups with advanced technology. The company is also building relationships with medical institutions, companies, universities, and welfare facilities in Japan and abroad. Meanwhile, its CEJ Fund is aiming to raise ¥10 billion and has already attracted the participation of major financial institutions and manufacturers in the housing industry.
So far, C-Startup has invested in more than 20 venture companies in fields such as regenerative medicine, drug development, treatment of intractable diseases, healthcare, and apparel. Its objective is "streamlined promotion of innovative technologies and devices from R&D to social implementation" on a global scale.
Among them is
Hirosaki Lifescience I
nnovation (Hirosaki LI), a company working on regenerative medicine products based on blood vessel culture technology, and
Xenoma
, a healthcare service company with clothing technology that can record body movement and electrocardiogram measurements.
Cyberdyne plans to further its alliance with Hirosaki LI through the new Kawasaki-based research facility, saying that "Together, we will advance to a new stage in the development and manufacture of regenerative medicine products."
The company's need for access to an international airport is highlighted by its increasing global reach. While HAL's employment for medical purposes was approved in Taiwan last November, a story that same month in a U.S. newspaper mentioned how HAL had helped a 15-year-old American boy walk again after he had been paralyzed by a lightening strike.
Also last year the company announced that the Japan Agency for Medical Research and Development ("AMED") had adopted its proposal for the "2022 project to promote robotic care devices for overseas." At the center of the proposal is the "HAL Lumbar Type," a "Wearable Cyborg" designed to support various tasks in the care industry, such as carrying and bathing of the elderly — an increasingly prevalent feature in aging societies around the world.
Meanwhile, construction work has begun in Malaysia on the National Center for Neuro-Robotics and Cybernics, which will become the largest medical complex in Southeast Asia. The center is scheduled for completion in 2024.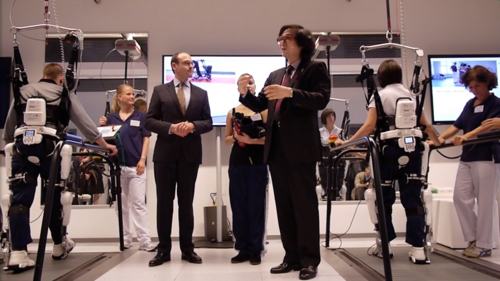 Sankai told J-Stories that it is vital to break down what he considers artificial barriers between fields in science and technology.
He also said that technology must help create a society that includes and looks after everyone."There must not be a situation where people left behind in the advancement of science and technology, such as the elderly and vulnerable people with incurable diseases, are locked up in a room somewhere."
Last May, a paper was published in the academic journal
Internal Medicine
that reported success in using HAL to help patients suffering from ALS (amyotrophic lateral sclerosis), a disease typically difficult to treat even with rehabilitation.
There may be many other uses for HAL, but Sakai points out that, unlike with other medical technology, with HAL it is difficult to conduct animal experiments."The challenge for us now is to analyze how it can be used effectively, taking into account the degree of disease and individual differences," he said.
Translation by Tony McNicol
Top page photo by Cyberdyne
For inquiries about this article, please contact jstories@pacficbridge.jp
Click
here
for the Japanese version of the article.
In addition to J-stories' own research, this article also uses information from the following websites: