J-STORIES  –  A new app called FreeTraffic aims to boost both tourism and local economies in Japan by enabling local authorities, hotels, restaurants and other facilities to subsidize the cost of visitors' transport to destinations, potentially up to the full amount.  
Developed by Tokyo-based startup 
Fourwin
 the app is based on a business idea that could deliver visitors to places in Japan that may have lots to offer tourists, but struggle to attract visitors due to inconvenient transport links and low profile. 
Often, such regions are also suffering from the effects of depopulation and a weak local economy, meaning the app could provide a much-needed boost.
FreeTraffic users confirm their point of departure and arrival via GPS on their phone then pay at participating hotels and restaurants at their destination. As they do they accrue points that can be exchanged for electronic money to pay for further accommodations and dinners out. 
There is a limit to how much electronic money can be spent at each establishment, but if travelers stay and eat at multiple places participating in the scheme, they can potentially cover the cost of travel over significant distances.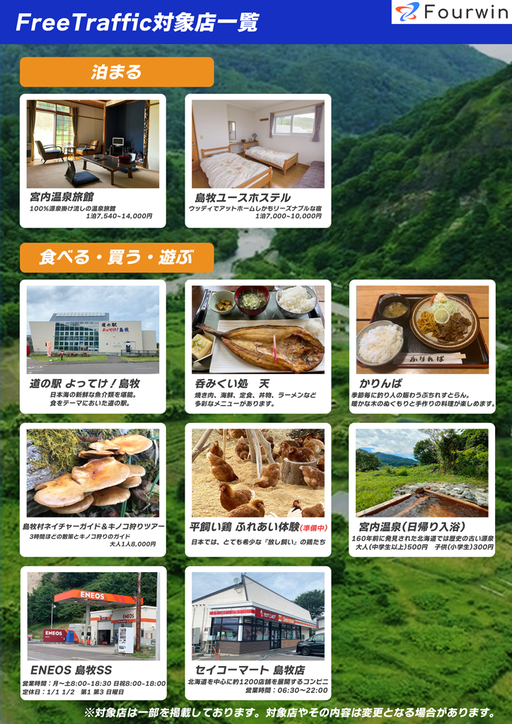 Fourwin is testing the service with Shimamaki, a village on the northern Japanese island of Hokkaido. Up to 100 travellers will take part and a maximum e-money spend of ¥6,000 per accommodation will be permitted. Inbound tourists can start using the service as soon as they arrive in Japan.
Kohei Osakabe, Shimamaki village Local Vitalization Cooperator, told J-STORIES that, "Implementing this app in a [depopulated] area like Shimamaki Village has the potential to open a new path for local development. If successful, it could have a positive impact on Hokkaido and Japan as a whole."
Going forward, Fourwin plans to eventually cover all modes of transport, including rail, car, air, and ship. It also hopes to raise the maximum e-money spent per accommodation and actively target tourists arriving from abroad.
Fourwin CEO Shunpei Nagase told J-Stories that the company aims to test the app in four other locations before releasing a full version in 2025. His company also hopes to expand the service to depopulated regions in other countries, though it will need to develop it further to cover languages other than Japanese before then.
"I believe that FreeTraffic has the potential to solve social problems around the world," said Nagase.
Translation by Tony McNicol
Top page photo by Fourwin
For inquiries about this article, please contact jstories@pacficbridge.jp
Click 
here
 for the Japanese version of the article.