J-STORIES - It's often hard for children who are hospitalized for long periods of time to continue their education and keep up with their friends. But a private-public initiative has come up with a clever way to assist them.
Under the slogan of "turning the hospital room into a classroom," the Kobe-based robotics and communications company iPresence has teamed up with the Tokyo governmental research body, New Media Development Association, to promote a new support program that uses remote-controlled "Telerobo" robots to virtually transport hospitalized children back to their classroom.
From their hospital wards, children can use PCs, smartphones and other devices to choose an avatar and then control the classroom-based bots, which carry a screen on which the chosen avatar appears. This allows them to take lessons, have conversations with teachers and friends, and even steer Telerobo around the school.
It provides a perfect solution to a problem facing Japan's current system. Many children become anxious about returning to school after being hospitalized, not only because they fall behind academically, but also because they tend to lose touch with their classmates.
And while there are opportunities for children to receive in-hospital education, research indicates that many high school students who are hospitalized for extensive periods have a greater tendency to lose contact with their schools and get left behind. According to a survey by the
National Cancer Center Japan
, more than 60 percent of senior high school cancer patients took a leave of absence from school while hospitalized, while around 10 percent left school entirely.
Interestingly, more than 80 percent of junior high students and almost 60 percent of elementary school students changed schools due to cancer treatment, the NCCJ survey found.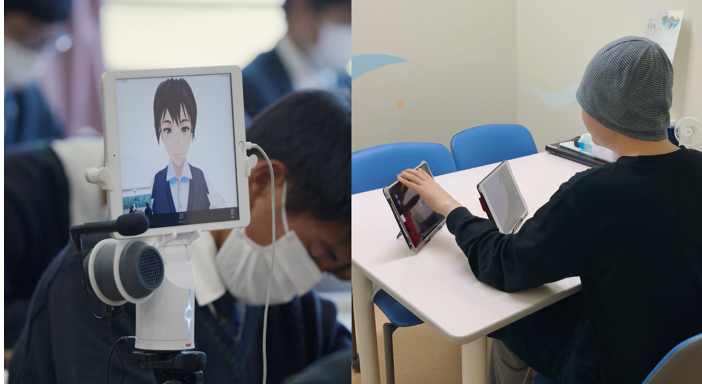 The remotely controlled Telerobo certainly gives hospitalized children a sense of being back at school attending class. The avatar robot's mobility enables it to turn its "head" to look at the blackboard, or allow the patient to chat with classmates in the cafeteria during lunchtime. It can go to the gym to watch activities going on there, or even go along on extracurricular trips to museums, and so on.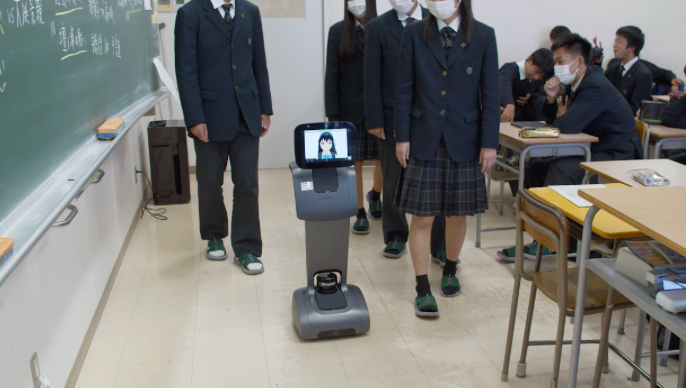 "The purpose of school life is not just about learning, but also communicating with teachers and friends," said Telerobo project leader Michihiro Hayashi of the New Media Development Association, which is charged with the operational side of the new system.
And the system isn't just for high schoolers. One elementary school student made use of a Telerobo to participate in his school entrance ceremony, then started his school life from the hospital ward via the system. Thanks to experiences such as remotely celebrating his birthday together with school friends, he had a stress-free return to the classroom after being discharged from hospital.
In the future, the New Media Development Association also wants to help other absentee students and children with disabilities. That could involve the use of new technologies such as the metaverse working in tandem with robots.
"We want to provide support to ensure no child is left behind," said Hayashi.
Translation by Tony McNicol
Top page photo by halfpoint / Envato
For inquires about this article, please contact us at jstories@pacificbridge.jp
Click here
for the Japanese version of the article.
In addition to J-Stories' own research, this article also uses information from the following websites: