J-STORIES - A new driver assistance system that mimics the flexible vision of the human eye is bringing fully autonomous driving even closer. This system can detect and analyze key objects in a car's environment, such as traffic lights, cars and pedestrians. It can even "see" objects clearly when visibility is poor, such as during misty weather conditions.
Stera Vision
, a company based in Tsukuba, a city northeast of Tokyo, has developed a compact, low-cost "LiDAR" technology that is at the cutting edge of so-called Advanced driver-assistance systems (ADAS).
ADAS with functions such as automatic braking and lane centering typically rely on cameras and millimeter-wave radar. However, LiDAR (light detection and ranging) technology, which works by shining light on an object to calculate its location, is considered essential for fully autonomous driving.
There are six levels of vehicle autonomy. While driver assistance is required at levels 0, 1 and 2, levels above that feature automated systems that monitor the driving environment. There is fierce competition to develop level 4 systems, which enable driving without any human intervention under specific circumstances. There are autonomous taxi services already in operation in the United States and China, while in Japan, a level 4 system is expected to start in April.
The ultimate goal is level 5 technology, such as that being developed by Stera Vision, which automates all driving tasks under all conditions.
A key feature is how the company's LiDAR system mimics human vision. The human eye does not see everything in the field of vision equally. Rather, it picks up things it wants or needs to see and looks at those in more detail. That's why, even though we can't move our eyeballs at high speed, we can still select necessary visual information, process it, and make rapid decisions.
In order to mimic this capacity of the human eye to see objects in the detail required for safe automated driving, Stera Vision developed a "Multipol" scanner. If there is a crossing several hundred meters ahead, for example, the device can prioritize that area to scan and analyze it. On the other hand, it will scan the sky and other areas irrelevant to safe driving at a much lower level of detail.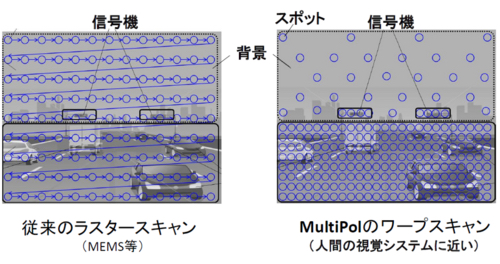 "In the same way as the human eye, the system is capable of flexible scanning," said Stera Vision CEO Hisato Uetsuka. This process of selection allows a scanning frame rate for important objects in the field of vision that is more than 10 times faster than other systems.
Meanwhile, the company has also developed a high performance laser that makes use of Frequency Modulated Continuous Wave (FMCW) radar. FMCW works by continuously emitting laser light of varying frequency to measure the distance to objects.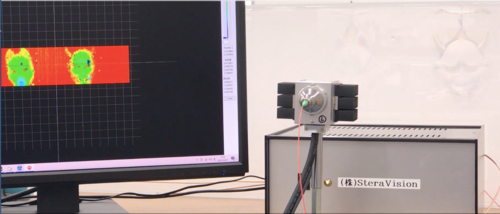 "Our LiDAR system combines these technologies and is the only one of its kind in the world," Uetsuka told J-Stories. "It also has the advantage of being relatively cheap to install. We would like to continue its development with the aim of achieving and popularizing autonomous driving."
Last year, Stera Vision started shipping LiDAR systems for testing and is getting an increasing number of inquiries from Japan and abroad. The system can also measure the direction and depth of cracks in roads, so could be used for construction and agricultural machinery in addition to passenger vehicles. Other possible new uses include fitting it to drones in order to better inspect infrastructure, such as dams, electricity pylons and transmission towers.
Translation by Tony McNicol
Top page photo by Stera Vision
For inquiries about this article, please contact jstories@pacficbridge.jp
Click
here
for the Japanese version of the article.
In addition to J-stories' own research, this article also uses information from the following websites: