J-STORIES- A Japanese startup is looking at ways to help solve problems centering around a resource that is at the heart our existence.
Tokyo-based
Wota Corp.
is developing technology to overcome water shortage issues brought on by global warming and population growth that the World Meteorological Organization has warned will affect some 5 billion people worldwide by 2050.
Among the company's products are small, decentralized water recycling systems and autonomous control systems for water treatment.
Large-scale water treatment typically relies on the experience and intuition of specialists to ensure good water quality. The systems developed by Wota, however, use proprietary sensors and AI to ensure similar water quality autonomously, and on a much smaller scale.
An example is the company's Wota Box, a portable water treatment plant that can recycle 100 liters of water some 100 times. Released in 2019, it can provide shower facilities in situations where water mains connection is unavailable, such as after an earthquake, or other natural disaster. Wota Box is also suitable for outdoor events and at campsites.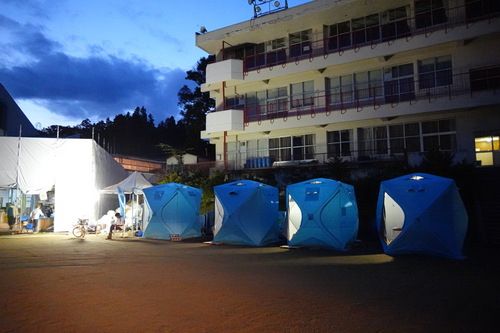 The company has also developed a drum-shaped hand-washing stand called "Wosh." The device can recycle 20 liters of water around 500 times without any need to connect it to the main water supply.
Wosh employs three filters— two of them activated carbon, the other a reverse osmosis membrane, deep ultraviolet rays (UVC), and chlorine disinfection to remove over 99.9 percent of bacteria and viruses from water. The stands are already in use in Japan at two major cafe and fast-food chains as well as one of the country's largest supermarket chains.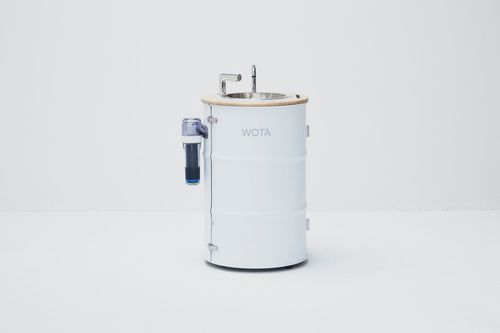 This March, the company launched a joint project with Japanese cosmetics manufacturer Kao Corp., and the following month it agreed to work with the government of the Caribbean island nation of Antigua and Barbuda to address local water issues. As part of that, it will study and test the use of small-scale distributed water recycling systems.
In addition to the global water shortage threats, Japan is one of many countries that face natural phenomena such as typhoons and earthquakes that regularly disrupt water supplies. In the central Japan resort town of Karuizawa, Wota is trialing a small-scale water recycling system that it has installed in a residential home. The project aims to collect rainwater and recycle it, thus removing the need to connect to water and sewage systems during such natural disasters.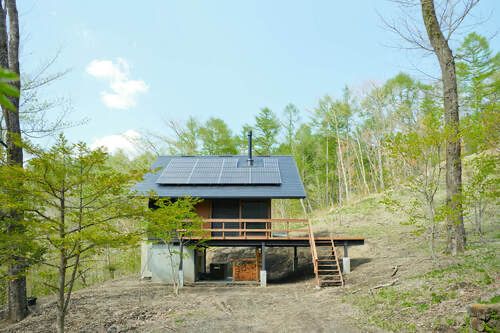 In October, the company also agreed to work with SoftBank Group and others to test an "off-grid residential module" that enables self-sufficiency in water, electricity, and communications. This is intended for use on the tiny Japanese island of Toshima, which has recently struggled with water supply issues. In future, Wota hopes to provide water supply systems to other isolated islands and depopulated regions.
Translation by Tony McNicol
Top page photo by stokkete/Envato
For inquiries about this article, please contact us at jstories@pacificbridge.jp
Click
here
for the Japanese version of the article.
In addition to J-Stories' own research, this article also uses information from the following websites: