J-STORIES – Fuel Cell Vehicles (FCVs) have received significant support from the Japanese government, but they have not become as popular as expected. A main reason is that there are very few filling stations for hydrogen cars, making them much less convenient than fossil fuel, hybrid, or battery electric vehicles.
Now Nagoya-based startup
Ability Ltd.
 has found a way to fulfill its goal of making the refueling of FCVs as quick and easy as buying a soft drink at the convenience store.
To realize that goal, it is developing handy hydrogen cartridges that could be stocked by supermarkets and other stores and easily plugged into vehicles. Each cartridge weighs around 8 kg, is a little larger than a 2-liter PET bottle, and could provide enough fuel for a small vehicle to run for 100 km. 
The company has also created a concept car that uses these cartridges. This January, Ability displayed the vehicle and the cartridges at
Automotive World
in Tokyo, a leading trade show for advanced automotive technologies. The company aims to test a prototype car on the road soon, and have a vehicle on the market by the end of the year.

Ability's CTO Tomohiko Shishido told J-Stories that he hopes the cartridges will be as easy to use as small electric batteries. Not only are the cartridges much lighter than large electric batteries in electric vehicles (EV), but an empty cartridge can also be swapped for a new one in much less time than an EV takes to charge.
A French company,
NamX
, has also developed a similar type of hydrogen cartridge and announced its prototype cartridge-fueled "HUV" (hydrogen-powered SUV) last May. However, in comparison, Ability's cartridges are more compact due to the lower pressure hydrogen they contain. According to Ability, this creates another advantage, as  lower pressure cartridges reduce the danger that comes with highly flammable compressed hydrogen fuel. 
Despite all the widely touted advantages of hydrogen technology, which are being developed around the world, there are still very few hydrogen-powered vehicles on the road. In Japan, the lack of refueling stations and the high cost of hydrogen as a fuel are two immediate barriers to progress. Furthermore, the cars themselves are expensive, even though the government offers a ¥2 million to ¥3 million subsidy on the purchase of each new hydrogen car, which are priced at around ¥7 million.
Ability estimates that its future hydrogen vehicle could cost around ¥4 million, which is comparable with many fossil fuel-powered cars on Japan's roads today.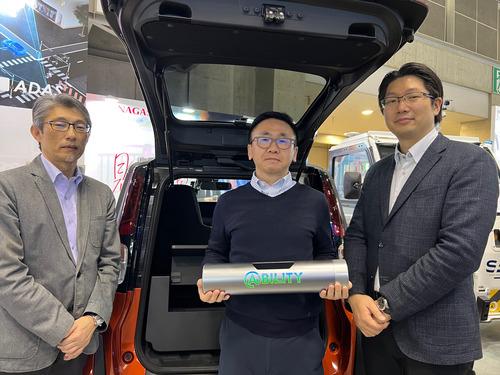 Shishido is understandably upbeat, saying FCVs are one answer to the urgent need to achieve carbon neutrality.
"If you want to reduce CO2 emissions, FCVs are the future," says Shishido, a former Toyota Motor Corp. engineer, adding he is hopeful that hydrogen fuel could be priced about the same as gasoline by 2030. 
"The reality is that so far hydrogen power hasn't spread due to the lack of infrastructure. I thought something needed to be done, so I started this project," he said.
Translation by Tony McNicol 
For inquiries about this article, please contact jstories@pacficbridge.jp
Click 
here
 for the Japanese version of the article.