J-STORIES - A Japanese company is looking to tap in to the increasing demand for
biomass plastics
by utilizing a staple ingredient on many a Japanese dining table.
Tokyo-based startup
Biomass Resin Holdings
is making the eco-friendly alternative to petroleum plastics from old and broken rice, reducing waste and giving a boost to a struggling rice growing industry.
Typically, biomass plastics are made from organic materials such as the common crops of sugarcane and corn. Indeed Biomass Resin founder and CEO Kazuhito Kamiya got the idea for his business when he saw how a major grain producer in the United States was making plastic from corn. It immediately got him thinking whether the same could be done with rice, especially old and broken rice that would otherwise go to waste.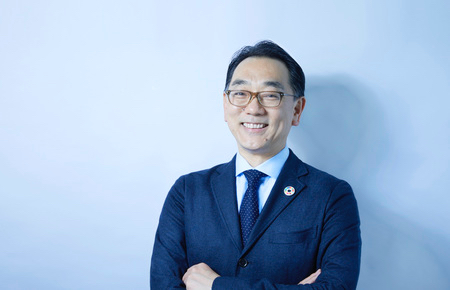 In 2007, Kamiya launched a company to develop rice plastic tech. And although his idea was well-received, the concept of environmentally friendly products was still in its infancy in Japan, and the company struggled.
Determined to succeed, Kamiya thought hard about how the business could survive, actively collaborating with people from other industries, such as rice farmers and the makers of molded plastic products.
He found that although the average age of Japan's farmers is increasing, so, too, is the number of young people who want to become farmers.
"I wanted to create a new agricultural business model to revitalize agriculture's future," Kamiya told J-Stories. As a first step toward that goal, he set up Biomass Resin Minami-Ounuma in Niigata Prefecture, one of Japan's main rice-producing regions. The company's plant there had a simple remit: to use any waste rice to produce
rice resin
, from which plastic could be made.
Although rice is still considered a staple food in Japan, consumption is gradually declining and many rice paddies have been abandoned and lie fallow. There are also rice paddies in parts of Japan's northeast that have been unused since the earthquake, tsunami, and Fukushima nuclear disaster that hit the region in March 2011.
Biomasss Resin has spied an opportunity here, too, last year setting up a rice resin factory In the town of Namie, Fukushima Prefecture, which was severely affected by the nuclear fallout, making the farmland there unusable.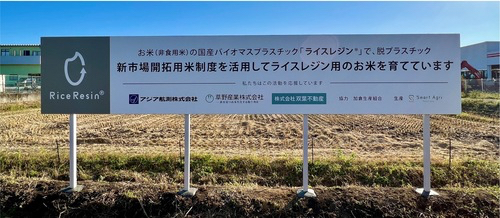 It is also working on potential business partnerships with around 20 other locations across Japan. It plans to expand its rice cultivation on previously fallow fields to 300 hectares within three years.
In 2021, the company also teamed up with
Mitsui & Co. Plastics
to sell products made from its rice resin. So far, it has been used to make a variety of products, from shopping bags, forks and spoons, to chopsticks, bento boxes, and children's toys.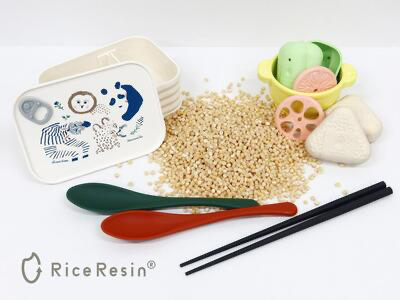 Biomass plastics are seen as a crucial replacement for petroleum-based plastics, which are a major pollutant, especially in the oceans, and contributor to global warming. As part of its decarbonization policies, Japan plans to use about 2 million tons of biomass plastic per year by 2030.
In collaboration with Kyoto University, Biomass Resin has also developed a biodegradable plastic that can decompose into carbon dioxide and water through the action of microorganisms. The company is making efforts to promote its
Neoryza
biodegradable plastic overseas, especially in Asia and Africa, and with this objective in mind has set up operations in Thailand and Vietnam.
"Biodegradable plastic will play a leading role in places where there is a keen need for solutions to waste disposal problems," said Kamiya. "We hope that locally grown rice could be one way to solve problems with waste."
Translation by Tony McNicol
Top page photo by Biomass Resin Holdings
For inquiries about this article, please contact jstories@pacficbridge.jp
Click
here
for the Japanese version of the article.
In addition to J-stories' own research, this article also uses information from the following websites: