J-STORIES - The typical image of public toilets is a negative one: dirty and drab. But the
Tokyo Toilet Project
plans to change that with 17 new public conveniences in the Japanese capital. The toilets have been designed by well-known architects and designers and their exteriors are as striking as their interiors are innovative.
One public restroom near Nanago Dori Park in Shibuya Ward, is a gleaming white spherical creation by Kazoo Sato Tose exterior is illuminated from the base at night time. In addition to regular functions, it features voice-activation technology, allowing some disabled users to open and close the door and even flush the toilet using verbal commands. 
The project is managed by the Nippon Foundation, with the involvement of famous names of architecture and design, such as Kengo Kuma, Shigeru Ban, and Marc Newson. Thirteen of the 17 planned toilets have already been installed in Shibuya Ward, with the remaining four due to be finished by March 2023.
Innovative architect Ban, renowned for his experimental work using paper, designed two toilets that have been installed near Yoyogi, a popular area that's home to one of Tokyo's largest parks. Both feature special glass that is transparent when the toilet is unoccupied but becomes opaque when it's in use. This high-tech solution lets users easily tell whether the toilet is available or not.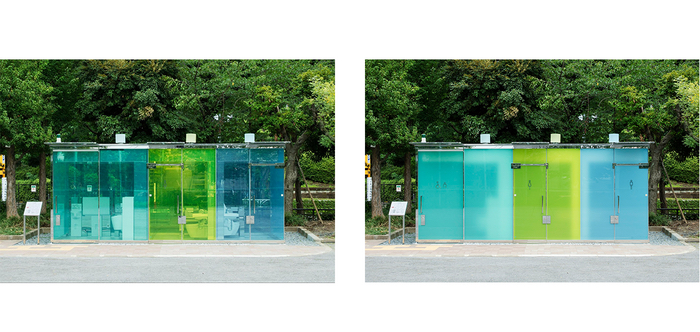 Akiko Yamada, a spokesperson for the Nippon Foundation, told J-Stories that one reason public toilets become dirty is their inconspicuousness. If, however, they are seen in a different light, for example as a rendezvous point, that image will gradually change, she said.
Another world-renown architect, Kengo Kuma, created public conveniences for Nabeshima Shoto Park, and his design has attracted attention for its generous use of wood. His creation for the park, also in Shibuya, is a "toilet village" of five huts, each clad with cedar board louvers, and are "connected by a walk in the woods that disappears into the forest." The interior, meanwhile, is decorated with reused cherry and metasequoia wood.  
Kuma is well-known for architecture that assimilates with the local environment and according to the project's website, his intention with this work was for the warmth of the wood to create the atmosphere of "a pleasant stroll" or a place for lovers to meet and walk.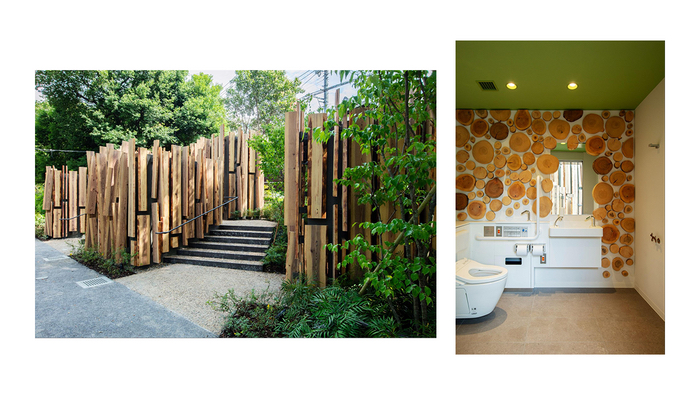 Last June, the Toilet Project won a Silver Lion (second prize) in the design section of the Cannes Lions International Festival of Creativity, the world's largest advertising and communications festival in terms of both visitors and exhibits.
In 2017, the Nippon Foundation and Tokyo's Shibuya Ward signed a "comprehensive agreement for cooperation on social innovation." According to Yamada, since the toilet project was part of this agreement, the foundation has no immediate plans to expand it to other regions. "[But], if people see this project, and it chimes with them and it spreads to areas where people face similar issues, we'd be happy about that," she said.
Translation and editing by Tony McNicol
Top page photo crazyphotography by Envato
For inquires about this article, please contact us at jstories@pacificbridge.jp
Click here
 for the Japanese version of the article.
In addition to J-Stories' own research, this article also uses information from the following websites: